ECDL CERTIFICATE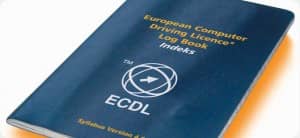 Do you have a driving licence? How about a computer driving license? This is not a joke. Back in 1997, The European Commission introduced a special type of certificate called The European Computer Driving Licence, which defines the unique framework of basic computer knowledge and skills for end-users.
In the 21st century, computer literacy is just as important as linguistic literacy. It permeates our everyday life in the form of mobile phones, public transport cards, e-banking, digital medicine, nanotechnology and space aircrafts. In other words, computer skills are no longer a privilege of the few but constitute essential requirements of modern society that everyone must meet. This programme was created by experts from all around the world and was supervised and approved by relevant international institutions. With over 15 million candidates in 148 countries, the ECDL is the most widespread standard of computer literacy in the world.
The ECDL certification programme is:
Internationally recognised
Implemented according to strict quality assurance standards
Suitable for all skills levels - view our range of certification programmes
Up-to-date, relevant and in line with market needs and technological advancements
Vendor neutral
Supported by a range of training options and materials, suited to the training needs/schedule of the candidate
Schools which implement a four-year ICT programme, base their curriculum on the ECDL Core programme. In accordance with this decision, which became effective in 2014, students of Savremena International School with grades A or B in ICT are entitled to the appropriate ECDL certificate. ECDL exams are held at LINK Group, a certified center for organising these exams. Skills and competences covered in the exam can be classified in the following seven categories:
Computer Essentials
Online Essentials
Word processing
Spreadsheets
Using Databases
Presentations
Information and communication
The ECDL certificate guarantees a high level of computer literacy. It is thus a valuable document to have when you're looking for employment since nowadays, in addition to formal education, employers require qualifications that attest to the candidate's ability to function in today's computer-driven world.