ITAcademy Junior Expert: Free programme for students of Savremena Gimnazija
Savremena Gimnazija is the most state-of-the-art Gimnazija in the region where students acquire comprehensive and relevant knowledge, with a variety of educational opportunities.
In addition to rich and varied learning resources, students of Savremena Gimnazija also have the opportunity to attend the most extensive ITAcademy Junior Expert programme that allows them to acquire the most bankable IT skills nowadays for free.

Instead of being passive users, this programme allows students to become active creators and designers of the digital world, adopting useful knowledge through educational applications and with the help of dedicated teachers. Most importantly, it enables them to improve and develop their algorithmic thinking, creative approach to problem solving, and communication skills, all of which will be very useful in their further education, regardless of whether they choose sciences, humanities, art, or some other field.
What will your child learn?
In the ITAcademy Junior Expert programme, your teenager will acquire important digital knowledge by mastering the following IT skills:

PROGRAMMING SKILLS
By familiarising themselves with a programming language of their choice, students will easily acquire significant programming knowledge, regardless of whether they have previously pursued programming or not.

STEM KNOWLEDGE
By programming Alpha Pro and Sphero SPRK+ robots, they will acquire knowledge in areas, such as science, technology, engineering and mathematics.

COMPUTER GRAPHICS AND ANIMATION
This programme is designed to introduce your child to various visual concepts and procedures, in addition to programming skills.

ARRAYS AND LOOPS
This programme introduces students to arrays and loops, the fundamental elements of all programming languages.

LOGICAL THINKING
To be able to successfully control the heroes of educational applications, your teenager will have to solve a series of logical problems, thus learning to think progressively and rationally.

CREATIVITY AND IMAGINATION
Coding, assembling and programming robots, designing and modelling elements develop children's creativity and imagination.

VISUAL AND AUDITORY SKILLS
Animating cartoon characters, changing their appearance and giving them voice allows your child to exercise their visual and auditory intelligence.

ENGLISH LANGUAGE
An online English language course will help them to master a new level of knowledge, whereas learning IT skills will help them to master the professional terminology.
Programming languages, software and content management systems – the best way to enter the world of programming and design
There is no better way of stepping into the world of IT, programming and design for teenagers between the ages of 14 and 19 than working in a programming language of their own choosing, and software such as Photoshop, Illustrator and AutoCAD.
In the Junior Expert program at ITAcademy, students will be introduced to graphic design and 3D modelling through practical work in the most renowned software. They will master the basics of web design in HTML and CSS, as well as programming in a programming language of their choice: Python, Java, Android, JavaScript or PHP. They will improve and refine their skills of online content management in the currently most popular CMS system in the world – WordPress.
In addition to programming and design, they will also control and manage Alpha Pro and Sphero SPRK+ robots using block programming, as well as 3D modelling and digital architecture.
Seven-league steps for your teenager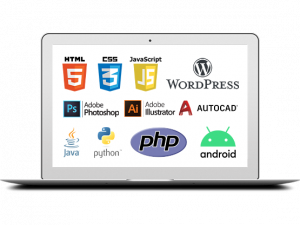 Your teenager will choose the programming language they find most interesting. The available programming languages include: Python, Java, Android, JavaScript and PHP.
Each of the available programming languages is an excellent choice, because the acquisition of knowledge and practical work in these courses are age-appropriate, and with prior mastering of HTML and CSS, as well as tabular computation and formal logic, working in these environments will be even faster and more efficient. Thanks to effective training, your child will make their first and most important steps in the world of programming and IT.
Robotics programming as a path to new skills in 4 areas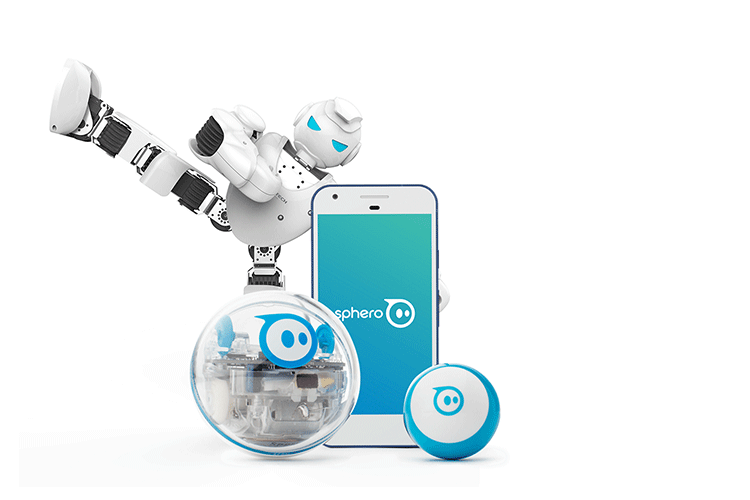 After mastering their first programming skills, the students will utilize this knowledge to program Alpha Pro and Sphero SPRK+ robots.
These STEM tools help students to develop and improve their knowledge of science, technology, engineering and mathematics. In addition, these robots will allow them to further expand their knowledge and adapt to coding after having mastered block programming.
Graphic design, 3D modelling and digital architecture
By using Photoshop or Illustrator, your child will learn how to use the most important image processing tools, create vector graphics and arrange various geometric and text objects. They will also learn to combine colours, textual and visual elements.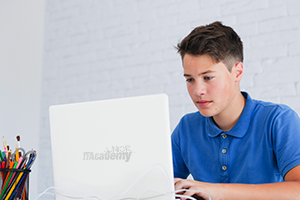 By working in AutoCAD, one of the best tools for 3D modelling and animation, students will learn to model three-dimensional objects – buildings, furniture, embossed surfaces, and to process different materials and textures.
We will pay special attention to creating mocks on given topics, modelling objects after graphic images, and creating animated presentations.
Your child will unleash their creativity and learn valuable lessons about design, drawing and computer-based modelling.
International certificates as a confirmation of knowledge

The ITAcademy JUNIOR 14–19 IT expert programme is harmonised with the prestigious Cambridge ICT Starters curriculum, and upon its successful completion, students become eligible for the Cambridge ICT Starters Stage 1 Certificate (On Track), which represents an international confirmation of their knowledge.
State-of-the-art education for your child
Savremena Gimnazija is the most state-of-the-art Cambridge Gimnazija in the region that uses the latest educational technologies and teaching methods to prepare its students for a successful future, providing them with the knowledge and skills necessary for life and work in the 21st century.
At Savremena, your child will get the most comprehensive education which represents a well-balanced combination of natural and social sciences, as well as unavoidable digital skills.
Provide your child with a quality, 21st-century education today!