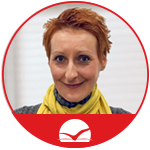 Biljana Đorđević
German language teacher Biljana Đorđević graduated from the University of Belgrade Faculty of Orthodox Theology. She honed her skills teaching religious education in several Belgrade gymnasiums. She continued her education as a guest student at the Romanian-German University of Sibiu (Romania), and a guest student at the Faculty of Protestant Theology in Bonn (Germany) where she worked on improving her knowledge of the German language. She completed her studies at the University of Bonn by successfully defending her doctoral thesis at the Department of Medieval Philosophy.
She is happy to share her experience of studying abroad with students of Savremena Gimnazija, underlining the importance of learning foreign languages.
Biljana enjoys spending her free time with friends.