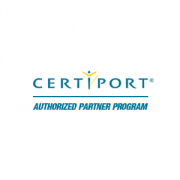 Authorized Partner Program
Certiport
Since August 2005 we are operating as Cambridge International Authorized Center, which enables our students to gain the widely-recognized Cambridge International Diploma.
Cambridge International Diploma can open bigger doors to higher-paying careers, and enable personal and professional development. At the same time, it represents official acknowledgement of acquired skills and knowledge.
Cambridge International Diplomas offer a wide range of professional qualifications to suit those who wish to further their careers or be better educated. To employers all over the world, this diploma is a guarantee that the candidate possesses the highest level of professional competence. Diplomas are focused on key areas in specific fields, including ICT and business and management. Students are offered different levels' diplomas, regardless of their age or previous experience.