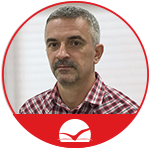 Draško Beguš
Mathematics, Information Science and Computing teacher, Draško Beguš, graduated from the University of Belgrade's Faculty of Mathematics. He had worked as a Mathematics, Information Science, Computing, Programming and Programming Languages teacher at Šabac Gymnasium for 21 years. He was also the Head Teacher of this school between 2007 and 2010, contributing to the national success and reputation of this gymnasium.
He participated in numerous educational projects and workshops, continuously supporting and promoting the work of his coworkers and students alike. His current priority is to use his experience and advice to improve the work of Savremena gimnazija, help his younger colleagues, help students develop a logical approach to problem solving, and make Savremena gimnazija one of the best gymnasiums in this region.
In his free time, Draško works on his development by playing chess. He holds the international title of a FIDE Master.