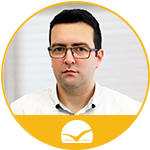 Gvozden Tasić
Physics teacher Gvozden Tasić earned his bachelor's degree and PhD from the Faculty of Physical Chemistry in Belgrade. He has participated in various projects in the fields of renewable energy sources and environmental protection. Through science promoting projects and mentorship he gained experience in teaching secondary school and university students.
At Savremena, his goal is to help students develop a positive attitude towards this beautiful science, teach them how to think critically, and encourage them to apply their skills in other areas and everyday life.
In his spare time, he likes to read, follow sports, and watch films and TV shows.