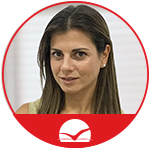 Serbian Language and Literature teacher
Jovana Bojović
Serbian teacher at Savremena Gimnazija, Jovana Bojović, earned a degree in Serbian Language and Literature from the Faculty of Philosophy in Novi Sad. She gained work experience at several primary and secondary schools. Jovana is also a proofreader and editor, and she wrote a monograph for the school in which she was previously employed.
At Savremena Gimnazija, Jovana wants to develop the students' love of literature and language. She uses contemporary methods to broaden the students' knowledge and strives to motivate them to gain new skills that will allow them to form opinions and express their creativity and ideas.
Jovana likes to spend her spare time with her family, in search of a good book, an unusual travelling moment, or a good recipe.