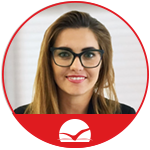 Maja Živković
Art and design teacher in Savremena Gimnazija, Maja Živković, got her degree in Applied arts and Painting in Belgrade. She is doing her Master course at the Academy of contemporary art and multimedia in Belgrade. So far, Maja has presented her works at 5 independent exhibitions and participated in over 60 group ones, and she is a member of ULUS (The Association of Fine Artists of Serbia). She studied old crafts and designing of frescoes in the Association "Piktum". She worked as a set and costume designer for children's theatre. She painted a lot of murals in public institutions and private spaces.
She is a participant of "ArtDistrict" and for many years she had gained the experience of working with children and was an author and organiser of several children's exhibitions and art colonies.
As an art teacher in Savremena Gimnazija, Maja wants her students to develop love for art, cultural awareness, critical thinking and responsible attitude towards cultural heritage.
Maja tries to inspire her Savremena Gimnazija students to engage in creative work and to encourage their participation in artistic and cultural life of the society.