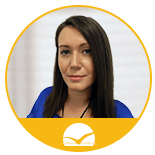 Serbian Language and Literature teacher
Mirjana Vasić Adžić
A Serbian Language and Literature teacher at Savremena Gimnazija, Mirjana Vasić graduated from University of Belgrade's Faculty of Philology, Department of Serbian Literature and Language. She expanded her knowledge and skills in a master's programme at the Faculty of Media and Communications. In addition to working as a Serbian language teacher, she organised and held entrance exam preparatory courses with great success.
She is an advocate of modern approaches to learning and interactive teaching methods, which is why she teaches a creative writing course. She also implements these principles in her lectures at Savremena Gimnazija.
Mirjana tries to spend all her free time with family and friends. Her hobbies include writing children's stories.