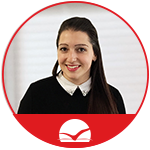 Nina Stevančević
Physics teacher Nina Stevančević completed four years at the Faculty of Physical Chemistry and is now a final-year student at Alfa University's Faculty of Mathematics and Computer Science. During her studies she participated in many science promoting events. She's worked in education for 10 years.
She thinks that she can inspire Savremena's students to learn physics using creative teaching methods, and she is a firm believer that if you don't like physics, it's probably because you don't understand it.
In her free time, she likes to make sweets for her family and friends.