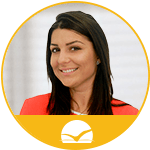 Sandra Marinković
Maths teacher, Sandra Marinković, obtained her bachelor's degree from the Faculty of Mathematics in Belgrade, at the Probability and Statistics department, where she enrolled into the master's programme. While still at university, she gained teaching experience by working in several schools in Belgrade. Through a creative approach, she strives to instil in her students a love of maths, and develop their research and critical thinking skills.
Given that she believes that the best way to learn maths is to connect it to everyday situations, Sandra teaches her students to utilise their mathematical skills and approach the science in a practical manner. In addition, Sandra believes that it's highly important to partake in professional development activities on a regular basis.
She loves animals, particularly cats. In her spare time, Sandra loves to socialise, travel, read and watch good films.