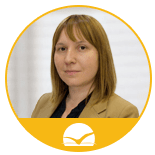 Sanja Bogdanović
History teacher Sanja Bogdanović got her degree in history from the Faculty of Philosophy in Belgrade and her Master degree from the University of Illinois, Chicago, USA. Working as a teaching fellow at the University of Illinois, and later at the City College of Chicago, she conducted the practical exercises at which students conducted research projects and improved their literacy skills necessary for advancement in various academic fields. Besides her work at the university, Sanja volunteered in Chicago primary and secondary schools, organising a variety of activities and projects for students of different ages.
Using modern technology in her lessons, Sanja manages to make history come alive and shows to her students that this subject can be not only useful but fun as well.
In her free time Sanja likes reading, writing and enjoys riding her bike along the Belgrade rivers.