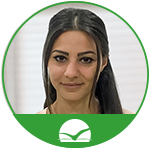 Tamara Milošević
Maths teacher Tamara Milošević graduated from the Faculty of Sciences in Novi Sad, where she's currently completing her master's programme.
At Savremena, Tamara wishes to instil a love of maths in her students and inspire them to develop skills in this area. Her goal is to help them understand the subject and show them how they can use it in their everyday lives and connect it to other sciences. Tamara likes to spend her spare time with family and friends.
She loves nature, the theatre and literature, and she also plays recreational sports.