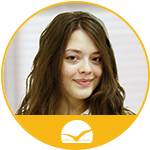 Tea Belojica
Physics teacher Tea Belojica obtained her bachelor's degree from the Faculty of Physics in Belgrade, where she enrolled in the master's programme.
Tea uses interesting teaching methods in order to make the subject relatable to students, and to show them how physics can be used all around us.
She spends her free time with family and friends. Tea enjoys nature, reading, knitting, and music.