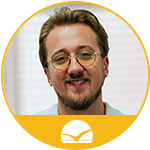 Uroš Mihajlović
Uroš obtained his bachelor's and master's degrees from the Faculty of Philosophy in Belgrade. He worked at CRTA, where he was engaged in promoting local activism. Uroš gained teaching experience at the Petnica Science Centre and the 4th Belgrade Secondary School.
He strives to incorporate popular and classical art in his Philosophy lessons.
The goal of his lessons is for the students to gain critical thinking and analysis skills.