AICE DIPLOMA
Cambridge A-levels for the students of the Combined Programme
Many students all over the world get accepted into the world's leading universities thanks to the Advanced International Certificate of Education (AICE).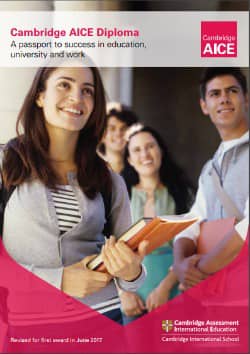 Among them are the students of Savremena's Combined programme, who are eligible for the prestigious AICE diploma after graduating and successfully passing all Cambridge exams. This programme develops the students' independent thinking skills, fully preparing them to grasp the essence of the subjects.
As an internationally recognised programme, accepted by universities world-wide, it develops knowledge, understanding and skills regarding:
core understanding of a subject
independent thinking
application of knowledge and its use in familiar and unfamiliar situations
logical thinking and presenting coherent arguments
evaluation and decision-making
working and communicating in English
Cambridge AICE diploma – a gateway to a successful career
After completing the A-levels programme, Year 13 students are eligible for the prestigious Advanced International Certificate of Education (AICE). The AICE diploma encompasses the so-called "golden standard" of Cambridge qualifications and covers all the knowledge acquired during the Combined Programme, where instruction is realised as an addition to the National Programme.
Having this certificate does not only evidence a high level of knowledge but also proves that the student has learnt to think critically, analyse data and present his knowledge in the most suitable way. In a nutshell, the AICE diploma makes a valuable ticket for further education at the most prestigious universities world-wide, and for employment with the world's leading companies.
Visit the Cambridge website for more information: