TABLETS FOR LEARNING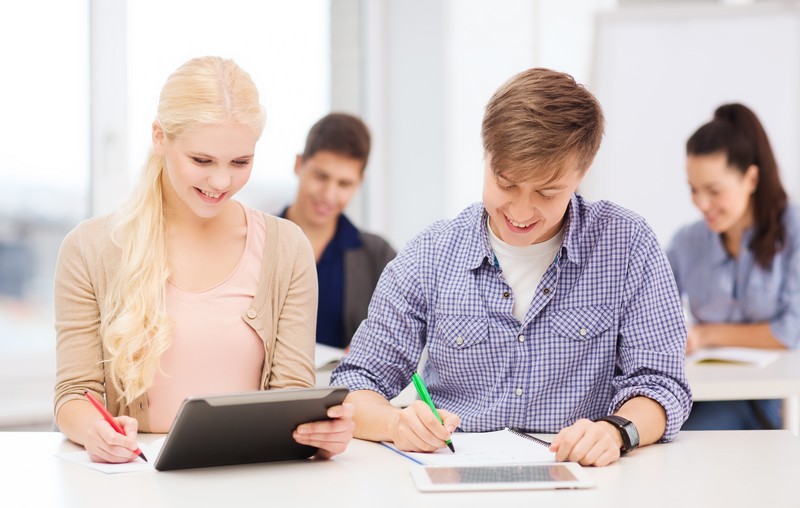 Imagine putting all of your books, notes and learning material into a single electronic notebook! You can use it to solve math problems, read fiction books, explore geography using the Google Earth application and study history using animations and video games. Every lesson becomes a combination of entertainment and learning, and you end up achieving much better results because you actually enjoy learning.
This is exactly what classes at our school are like!
In order to further facilitate learning and make it quicker and more interesting, students at our school use electronic notebooks on tablets - and are able to study wherever they are - the only condition for this advantageous study being the Internet connection. Using your tablet, you can study anywhere, at any time. Thanks to these innovations, lessons at our school are even more advanced, interesting and of higher quality.
The essence of successful and high-quality education lies within the student's sense of satisfaction with the things they learned. It is also reflected in the knowledge quality and the bond that students build with their teachers and amongst each other. E-notebooks enable all of these things. The use of electronic notebooks hasn't had a negative effect on the lesson flow or the discipline. Quite the opposite. It has encouraged students to actively participate in lessons and has made lessons more interesting for them. The use of e-notebooks has actually made lessons more effective. Student marks have also improved.
There are many advantages to using electronic notebooks in the classroom - students can use photos and videos during lessons, teaching becomes faster, there are many interesting apps to help students while they're studying, study materials are available online and students can access them at any time no matter where they are. Another advantage is that students can communicate with their teachers at any time.
All of these things have improved the quality of our classes and have made them more interesting and more effective.
Using a tablet with an e-notebook means that you can learn things at any time and share them with your classmates on various forums and chat-rooms.
You can view and listen to online courses, lectures, theatre performances, videos etc.
Whenever you want, you can use the Internet to access e-books, research papers and any other useful information that might interest you.
Using an e-notebook also means that you can visit the virtual exhibitions of almost any museum or gallery. It also means that you can visit countless cultural and historical landmarks. Even though you are in Belgrade, it only takes a couple of seconds for you to be transported to a metropolis anywhere in Europe or anywhere in the world.
Using an e-notebook in the classroom means that you can watch movies and online presentations about the work of prominent cultural figures. Learning about different artists and scientists becomes enjoyable with an e-notebook.
Thanks to YouTube, poems and novel excerpts are readily available and it's more interesting to listen to them than to read them yourself.
An e-notebook facilitates your studying by means of numerous popular applications that will make each lesson much more interesting.
These are the most popular tablet applications amongst our students: Kingsoft Office, Nearpod, YouTube, GIF Creator, Edmodo, Great Battles Medieval, Gmail, Google Drive, Webmaster lite, Stop Motion Maker, Google Earth, PhotoShop, PS Touch, Video Maker etc. Each of these applications has helped our students do better in class.
Going to school with a smile
There are many advantages to using e-notebooks. Students only need a tablet and an internet connection to participate in the lesson. Using e-notebooks in lessons has yielded a great number of exceptional results:
Taking notes takes much less time on a tablet.
Teachers can monitor the student's work during lessons. After lessons, they can access e-notebook content, add comments, suggestions, correct students, review homework etc.
A lack of notes due to missed lessons can be easily compensated for without the need to spend hours copying the material from your classmates.
Homework assignments are done with ease. Using an e-notebook, students can complete a great number of tasks by working in groups.
The social side of using e-notebooks is especially important, because communication has a direct affects on the motivation of students, their self-esteem and their sense of satisfaction for participating in various forms of group teaching.
An ideal lesson is one in which you learn more than you would need to in an EASY and ENJOYABLE way.