Digital badge as international confirmation of student's competencies


To be successful in the 21st century, an individual is not required to be a walking encyclopedia, but to use knowledge in innovative, creative and well-founded ways and push the boundaries. To prepare them for any future challenges and make it easier for them to become successful, Savremena gimnazija has decided to implement another way for the students to acquire practical knowledge and skills that transcend the curriculum, utilising an interactive learning platform.

At Savremena gimnazija, the adoption of new knowledge is interactive, fun and digitally verifiable, as for every successfully completed course, students get digital badges – which represent the latest global trend in education, and constitute highly esteemed digital credentials in today's world.
What exactly are digital badges?
You are probably familiar with cryptocurrencies and perhaps some other blockchain solutions. However, this technology does not end there – it has been put to good use in education, too, in the form of digital badges.
A digital badge is a visual representation of acquired knowledge and skills, but much more than that, too. Thanks to the implementation of blockchain technology, each badge is personalised, and contains an entire set of metadata for its verification. This way, educational institutions and potential employers can see what courses you have completed, what knowledge and skills you have acquired, what competencies you have and what certificates you hold – all through this cutting-edge form of digital certification.
Digital badges – certificates of the future that help students stand out in 21st century professions
Although it is highly valued, these days, a professional diploma is not enough. The thing that can make an individual stand out is the possession of different valuable, verifiable digital badges. They speak not only about the newly acquired abilities and competencies, but also about the willingness to keep advancing oneself and stay up to date – a highly desirable trait in contemporary academia and modern business alike.
This is why many successful international companies, as well as renowned educational institutions, promote digital badges and their value when it comes to additional training and education. Their holders have significantly improved chances of getting accepted into the university of their choice or getting a desired job.
For all these reasons, at Savremena gimnazija, we encourage all students to adopt new and develop existing knowledge throughout their professional career, as it is the only way to fully respond to the rapid and dynamic changes in knowledge, skills and jobs of the 21st century.
Digital badges as indispensable item in academic and professional CVs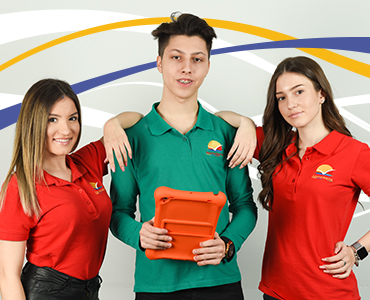 To ensure that students receive state-of-the-art education and achieve success in the 21st century, in additional to the prestigious teaching programme, Savremena gimnazija has provided the option of acquiring additional knowledge and skills utilising the innovative online platform. The students choose additional courses themselves, and upon their successful completion, receive a prestigious digital badge as a sign of international recognition of the knowledge, skills and competencies acquired through the course. The students, in addition to a highly esteemed international diploma, will have digital badges as proof of their additional competencies, which is bound to significantly improve their chances for success in their further academic and professional career.
In a world which is rapidly moving into the digital sphere, these types of digital certification are becoming an indispensable part of an individual's academic and professional CVs.
Savremena gimnazija
– where learning is designed to lead to success
Through its truly different teaching programme, Savremena gimnazija strives to ensure a secure future for the students and help them become successful in the world of 21st century work. One of the ways to make this easier for the students is the acquisition of digital badges, which will ensure that they stand out among the candidates when it is time to move on to higher education and, later, go to job interviews.
Savremena gimnazija is a true Future Ready school, where learning is aimed towards a successful future, and digital badges are a valuable addition to the already rich set of tools we offer in order to make the path towards this objective easier.