EVERY GREAT ACHIEVEMENT STARTS WITH A CREATIVE AND MODERN APPROACH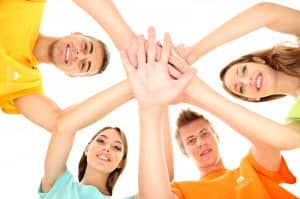 Mentoring, tutoring, talent management and appreciation of each student's educational need are just some of the elements which promote Savremena Gimnazija as a school with a modern academic approach. We have built a team of knowledgeable teachers and mentors, who are not only experienced and professional, but also motivated to pursue their educational philosophy. They appreciate the talents each student has, and know how to recognise and nourish them.
In our teaching approach, we have strived to avoid old-fashioned and often criticised elements of the educational system in Serbia, but we have also kept and improved those which are traditionally good and valued as efficient and result-oriented. The students who are enrolled on the Cambridge programme experience learning interactively, which is specially gauged to meet high academic standards. Apart from the curricular activities, we encourage our students to self-reliantly develop their own ideas through research and projects. While developing these skills, the students cope better with the workload at the university, as they learn how to manage time, where to access information, and how to successfully complete tasks by analysing and synthesising them.
Technology in the classroom
Our learning environment and working conditions promote Savremena Gimnazija as one of educational institutions with the best teaching aids and internal work organisation, not only in Serbia, but also in the region. Teaching in our modern building in the downtown Belgrade features video and audio teaching aids, interactive whiteboards and tablets, while studying traditionally or online, using our virtual learning environment (VLE) and Android apps. In order to facilitate online teaching and learning, we have developed a special methodology, which is adapted to our students' age and needs. Such a methodology encompasses an interactive approach whose learning objective is to foster students' skills to identify, understand and solve problems by using cross-curricular knowledge and transversal skills.
Our teachers are good educators in the first place, who mentor our students to discover and cherish their talents but also support learning where needed. In order to establish strong friendship bonds among our students, Savremena Gimnazija fosters a special kind of learning support - peer mentoring, where students help each other to progress by studying together. Very often peer mentoring grows into strong friendship, trust and self-confidence.
Learning support in all subjects for students who need help to achieve better results
Although we strive to cover the curriculum fully during the school hours, if there are uncertainties in understanding the tasks or units, our students do not have to engage a private tutor but raise this issue with their own teacher who will arrange tutoring or mentoring after school hours on any learning uncertainty.
Extended learning for gifted students and preparation for competitions
We cherish talents. Our teachers gladly organise extended learning sessions for gifted students in order to help them nourish their talents. For those who are competitive, the school facilitates participation in various competitions, both locally and regionally. If a student achieves highly in these competitions, the school will duly award them with a scholarship and some other benefits.
Excellent learning and working environment
Studying in a healthy and inspiring environment is much easier. This is the very reason why we put a lot effort to create such conditions in our school. Apart from professional teaching staff, modern teaching aids and safe environment for an all-day stay, our school encourages fine manners and courteous talk. The social life at school is embroidered with various clubs, cultural events, sport happenings, charity fundraising, joint projects, etc.
Our students' success is a mirror of our own success! This is why it is very important for us to help each student become an academic citizen who will be our school's pride.