School premises at Belgrade Palace

Savremena Gimnazija, whose modern approach successfully prepares students for the greatest achievements, has premises at two locations in Belgrade. Students of the National and Combined programmes have lessons in the city centre, on the third floor of Belgrade Palace, while Cambridge programme students attend lessons at Vračar, in the vicinity of St. Sava Church.
Exclusive location with dedicated entrance for students
The premises of our Future Ready School's second location are located in the very centre of the city, on the third floor of Belgrade Palace. You reach them through a special entrance into Savremena Gimnazija from Kralja Milana street.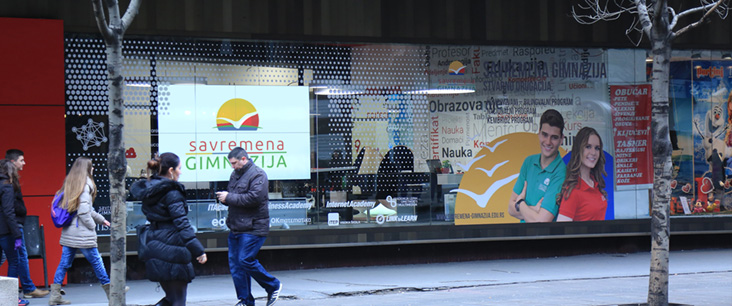 Take a virtual tour of Savremena
State of the art premises
The school's interior exudes a modern design reminiscent of Google's offices; from the very reception, you are surrounded by Savremena's spirit, enjoying the cosy environment while talking to the school's kind personnel.
Inspiring and motivating interior
Savremena's interactive and creative space motivates the students and the teachers to achieve great academic results and facilitate their professional and personal development alike. Glass classrooms and offices have been specifically designed to show transparency in work and always available and open teachers, ready to help at any time, and to inspire the students to connect with one another.
Interactive classrooms and labs brimming with new gadgets
As Savremena Gimnazija is recognisable by its Intelligent Classroom concept, its premises at Belgrade Palace also boast full technological equipment, including gadgets, such as interactive boards, live stream cameras, Samsung Gear VR, Amazon Echo, tablet and laptop devices and other educational gadgets that stimulate the students to adopt the knowledge in a modern way and advance the skills necessary for the 21st century.
Amphitheatre with a number of technical possibilities
The modern amphitheatre is equipped with state of the art equipment for different kinds of lectures and school events; thanks to the more expansive space, it supports a greater number of students in different interactive workshops, guest lectures and educational seminars.


Learning Centre and library – oases for young researchers
Savremena Gimnazija encourages the students to always be in search for knowledge and advance their skills. This is exactly what these are for: the creatively designed Learning Centre, and the library with modern equipment – less formal environments where the students of the National and the Combined programme can study in a more relaxed way.
Gym with the latest equipment
In addition to the modern space for studying and hanging out with friends, Savremena's premises at Belgrade Palace also include a gym with the latest exercise equipment, where PE lessons take place. The students can also use it for afternoon recreation and strengthening workouts.
Comfortable school restaurant for maximum pleasure
During the break, students can eat at the school restaurant, enjoying healthy, taste and balanced meals. They can relax in a pleasant environment, enjoying the comfort of the contemporarily designed space for lunch and relaxation.
Creatively designed space for students to relax and spend their leisure time together
Before, after and between lessons, the students at Savremena's location at Terazije can prepare for future lessons and relax in an open space for rest and leisure. A creative, inspiring environment, with its futuristic design and exquisitely engineered space where students can hang out, is equipped with the latest gadgets and interesting details.
Modern interior design for best learning results
Architecturally envisioned so that it follows the dynamics of the teaching that takes place inside, the premises at Belgrade Palace provide the students with a modern, creatively design ambiance enriched with the latest gadgets for easy learning. Our modern classrooms encourage creativeness as opposed to a mere transfer of knowledge, which is why we confidently look forward to even greater achievements from Savremena's students in the future. With a modern environment like this, Savremena's students learn outside the established, traditional bounds, which often prevent one from displaying one's full potential.
Visit Savremena's premises at Belgrade Palace
Our telephone number have remained the same; for any inquiries, call us at: +381 (0)11 4011 220 or email us at: office@savremena-gimnazija.edu.rs.
The doors of Savremena Gimnazija are open to all. Make an appointment via email: office@savremena-gimnazija.edu.rs, or telephone: 011/4011 223.