Savremena's School Life Coordinator
We believe that in addition to an advanced curriculum, every learning institution should offer its students a vibrant school life rich with interesting content and activities.
Aiming to further improve the way our students acquire knowledge and develop their skills both in and out of school, we have introduced a new asset to the education we provide, the School Life Coordinator who, along with the Principal and our teachers, is an active contributors to the continuous improvement of Savremena's school life.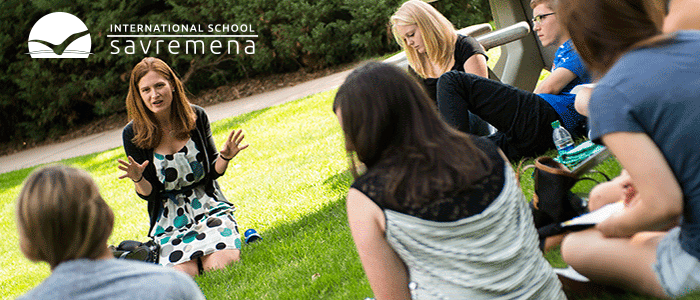 This way we want to ensure that our students spend their time at school constructively and that they develop their intellectual and social skills which are equally as important as every child's holistic development.
The main duties of the School Life Coordinator
Organising school and extracurricular activities. The School Life Coordinator organises various kinds of activities

including

clubs, day trips, excursions, sports activities, visits to cultural events, prominent institutions, scientific centres, in addition to cooperating with public institutions etc.
Developing the school's ethos. Savremena's students help build the school's ethos and the School Life Coordinator assists them in making their ideas come to life. Whether it's organising clubs or going on trips, students can suggest the activities that interest them and the coordinator will set them up in the best possible way.
Answering questions and offering insight on a day to day basis. In order to ensure the smooth flow of school life activities, it is important that students have someone who is always there to answer their questions and inform them about curricular and extracurricular events. The School Life Coordinator is just the person for that who will make sure that each school day is perfectly planned out and successful.
Raising awareness about cultural and volunteering activities. We believe that it is very important to show our students that they can have a positive impact on society. Our aim is to make them aware of the fact that through their behaviour and their actions they can raise the standards of cultural development, ensure good interpersonal relations and preserve the environment. With that in mind, the School Life Coordinator includes students in various humanitarian events, visits to cultural events and activities that develop their level of tolerance and empathy.