Innovative educational practices at Savremena
Savremena Gimnazija provides contemporary education supported by innovative educational practices that make Savremena stand out as a regional leader -- a trailblazer in education.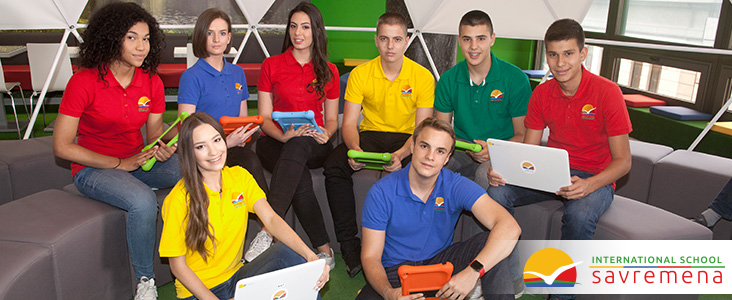 Simple and efficient learning driven by a freshly founded approach
As the traditional, "ex cathedra" way of knowledge adoption has clearly become passé, Savremena implements the modern model of education, which involves a well-balanced blend of state-of-the-art educational technology and a truly contemporary approach that maximises the chances of achieving top results. This concept was developed by LINK group, a company with over 20 years of experience in education that founded Savremena Gimnazija.
What Savremena's students receive from their school is primarily practical knowledge, which is continually adjusted to the needs of the market, as well as the objectives of the society in general. This is quite far from learning from outdated books whose year of publication bears witness to all the ailments of 20th century education. Everything is advanced, rendering this exquisite educational process several times as effective as it used to be. And, most importantly – the results it yields reflect this rate of acceleration, and it fully meets the students' educational needs.
A truly different model of education as a response to the challenges of the future
Information literacy is necessary for education at Savremena, and the school makes sure that the students adopt it from day one, throughout their time at Savremena.
The technology which Savremena's students utilise in the classroom is one of the most remarkable characteristics of this unique model, which prepares students for the most sought-after faculties in Serbia and abroad, as well as for the jobs of the future that await them as they prepare to exit the world of academia. However, this model is not limited to the use of cutting-edge devices in teaching.
The approach to education embodied by Savremena is flexible and in a constant state of advancement, following the ambitions and wishes of students and their parents alike, with eyes firmly on the goal of making sure that, as they conclude their secondary education, Savremena's students leave our school as versatile individuals, ready to meet any challenges the future might hold.
This is the way we have chosen in order to ensure that we accomplish our mission: to provide Savremena's students with strength and wisdom that they can use to change the world for the better through their decisions. Our goal is not merely to prepare them for the later stages of their education; we are resolved to do our absolute best to set them on the right track and make sure they are well prepared for the life ahead.