LINK eSports Association - the first school esports association in Serbia
Do you love video games and do you like to compete? We have great news for everyone who is passionate about gaming! As part of an international educational alliance, Savremena gimnazija continually strives to keep in step with 21st-century activities. For all of you who love video games and would like to take your competitive spirit to the next level, LINK Educational Alliance, which includes your school, is in the process of establishing LINK eSports Association – the first school esports association in Serbia!

To help you spend your time in a wholesome and entertaining way, and contribute to the affirmation of gaming as a beneficial activity for students, we have decided to establish the LINK eSports team and we invite you to join us in one of the most entertaining modern team activities!
Opportunity for 21st century athletes
Because it dedicates individual attention to each student and because it knows exactly what kinds of activities are beneficial to both personal and future professional development, LINK Educational Alliance hereby provides a unique opportunity for the students to become a part of the community that redefines the concept of a 21st-century sportsperson in a technologically advanced environment!
The main objective of LINK eSports is to form mixed teams of students from LINK Educational Alliance's institutions who will present their schools' spirit and values at regional and international esports tournaments. The teams will consist of students who will compete in different esports events, including some of the most popular games: League of Legends, CS:GO, Valorant, DOTA2, FIFA, World of Warcraft, with many others to come.
LINK eSports team will compete at tournaments at a semi-professional level, which means that gaming and esports enthusiasts will have an opportunity to turn their affinity into a career in gaming, which can be a highly lucrative profession at the global level.
Esports - development of soft skills, team spirit and gathering students of the same interests
Faithful to the trends nourished at the world's top K–12 schools, LINK Educational Alliance has decided to establish a school esports club, because it recognizes its numerous benefits when it comes to the students' engagement, the development of soft skills, and the sense of belonging among the students, and their orientation.
Esports is an important factor in students' engagement, as it – just like traditional sports – teaches them valuable lessons about perseverance, team spirit, camaraderie, leadership, and true sporting values. Esports in schools also help build a community that brings together students with similar interests, i.e., students who will be enthusiastic about representing their organization in gaming events.
Research has shown that engaging in esports for one hour a day:
reduces stress;
facilitates thinking, analysis, and decision making;
helps develop strategies and predictions;
helps with reading and the development of mathematical skills;
encourages creativity and keeps the brain active;
stimulates concentration and enhances memory and rational judgment;
encourages following instructions, logic, and problem solving;
enhances hand-eye coordination and motor skills;
enhances multitasking and the attainment of multiple objectives.
What's in it for you as a member of the LINK eSports team?
Being a member of the LINK eSports team means being a sportsperson in every sense of the word: although your competitions take place in a virtual environment, all the same, your physical and mental readiness and competencies need to be maintained and developed in order for you to achieve top results.
To attain the ideal ratio between these two aspects of a modern sportsperson, the members of LINK eSports team will have:
professionally led training sessions at LINK eSports hub, where ecoach will lead their preparations through training at state-of-the-art gaming computers and Sony PlayStation 5 console, with a full range of accessories and ergonomic chairs;
fitness coach, who will help them care for their health by encouraging regular physical activity, as well as a paedagogist, psychologist, and sociologist who will join the teachers in charge of the teams in supporting the team member's personal development and advancement.
In addition to all that is necessary for top performance in esports activities themselves, LINK Educational Alliance provides members of the esports team with free special benefits, to keep their training and their performance at competitions at the top level, along with their health and their satisfaction.
Ecoach – Just like in traditional sports, an esports coach will be there to help them prepare before matches with other teams. The coaches work closely with players and all team members, motivate them, identify their strengths and weaknesses, and make sure that they provide their best game.
Fitness coach – Players need to take good care of themselves and stay healthy. This is why the team members, supported by their coach, have regular strength and endurance training sessions.
Jerseys – To help them show off their school's colors and spirit, the team members will be provided with personalized jerseys.
Active involvement in the esports team activities is also conducive to the development of individual and social aspects such as:
encouraging social activities and outdoor gatherings, nourishing friendship, working together, and a healthy competitive spirit;
maintaining regular and healthy eating habits and exercise routine with support from a fitness coach and nutritionist;
support in learning and the advancement of skills such as problem-solving, analytical and logical thinking, with professional assistance;
organized participation in esports tournaments at the local, regional, and perhaps international level;
possibilities of connecting with colleges and universities that have active esports teams, as well as professional teams in the Serbian Electronic Sports and Esports Association (SESE) for further engagement in esports.
LINK eSports Association - gamers, analysts, journalists, organizers and fans in one place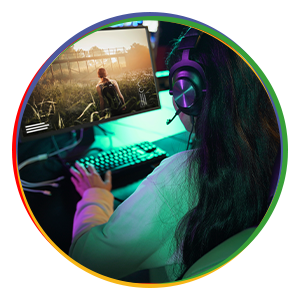 If you are a student of Savremena gimnazija, and you are also a gamer who enjoys competition and you see yourself in the esports world or you have already competed in an esports tournament, you are the right person to represent the Savremena gimnazija eSports team!
If you do not want to participate as a player, but want to be an analyst, caster, volunteer, or coach, to write news items, participate in the organization of events or simply cheer for your team, and thereby contribute to the building of our esports community, we bring you great news: there is room for you, too; the important thing is to have a love for this unique contemporary form of sport.
Become part of the LINK eSports Association and lead your team to victory!
If this invitation sounds like a great opportunity to show your abilities, apply by filling in this form and expect a call for a meeting with the association's manager, where you will tell us why we need you and why we should reserve a place for you on our team.
LINK eSports Association will start its activities in early September. Meanwhile, we are bringing the people together: forming mixed teams for different disciplines, preparing the training facilities, and selecting tournaments and leagues where we plan to achieve results!
Let us be a part of the global successful esports community!