Open day: Become a Savremena International School Student for a day
What does a day at Savremena International School look like? Come to our Open Day and discover what truly different teaching is like at an incomparably modern secondary school. Experience our creative classes and complement your learning through the use of state-of the-art gadgets and devices available at our future ready classrooms.

What does the visit include?
The Open Day at Savremena International School lets you experience three interdisciplinary lessons in the interactive, Intelligent Classroom environment. This means that, in addition to attending our creative and fun lessons, the visit also allows you to:
find out how to use state-of-the art gadgets,
conduct experiments in our modern laboratory,
test out the interactive table, Samsung Gear VR, Amazon Echo, iPad, Intelligent Whiteboard, Chroomebook, Node chairs and many other educational apps,
discover the fun side of school,
enjoy vivid and relateable lessons,
learn scientific facts in an exciting way.
Relax to a film at the end of your visit, spend some time with your peers, school coordinators and learning assistants. There, you will be able to ask them anything you may be wondering about the school and any other topic.
What makes Savremena International School truly different?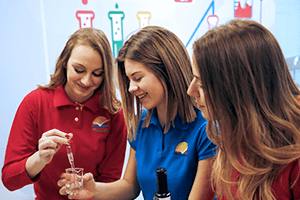 Savremena International School is the only Future Ready school in the region, which implies that its students attend classes in classrooms that boast state of the art equipment and follow lessons using modern technologies and tablets, Samsung Gear VR, Amazon Echo, interactive whiteboards, applications, etc.
Our creative and interdisciplinary approach to teaching enables students to acquire practical and applicable knowledge and skills. At Savremena International School, there are two languages of instruction, Serbian and English, and students can choose between the National, Cambridge and Combined programme. By attending one of these programmes, students prepare to enrol into the best universities across the world.
How to register?
Secure a spot for the Open Day at Savremena International School in an easy and simple way:
Fill in the registration form at the bottom of the page
Upon registering, one of our school coordinators will contact you with whom you can schedule your visit and come and enjoy your Open Day experience.
For any and all inquiries and additional information, feel free to call us at 011 4011 220.