At Savremena Gimnazija homework assignments are truly different: They are submitted online
Savremena's students don't need to worry about whether they have brought their homework with them to school because they submit their homework assignments online, through the distance learning platform.

All you need is an Internet connection and in just a few clicks you can send your work to your teacher, no notebooks needed. This ensures that you never forget to turn in your homework.
You can complete your assignments on your tablet or computer and send it to your teacher with no more than the click of a single button. It's all made to be quite simple so that students can complete their academic obligations in the easiest way possible.
Submission notifications and homework reminders
In addition, students and parents regularly receive notifications on submitted and unsubmitted homework assignments as well as homework reminders.
If you haven't completed an assignment which is due the next day or in a couple of days, at 3 p.m. an email reminder will be sent to you, and at 7 p.m. you will receive the list of unsubmitted homework assignments that are due the next day via a text message.

Every Friday at 7 p.m. both the student and their parent receive an email with a list of submitted and unsubmitted homework assignments for the previous and the following week. Parents also receive a text message stating the number of assignments their child has not submitted in the previous week.
All of this will ensure that you don't forget to turn in your homework!
How to complete and submit homework assignments
All of Savremena's teachers assign homework on the DL platform, in the Homework section where they post all of the documents that students need to complete a particular task. The platform provides students with an overview of all of their assignments, their submission deadlines and the name of the teacher they should be submitted to.
You can exchange comments with your teachers through an option available for each assignment, you can even attach a file with your comment. Students and teachers receive email notifications about comments that are intended for them.

Completed assignments can be sent in right away or later on if you wish to alter them before they are submitted. After a teacher reviews your homework, they can accept it and enter the mark for it which students can see in the assignment itself as well as in the e-diary. Or, should the assignment need further work, the teacher can return it to the student.
Why is this service so useful
The ability to complete and submit homework assignments through the DL platform is an amazing benefit we have made available for our students in order to make their education as well as student-teacher interactions as easy and as efficient as possible.
Thanks to all of this, you no longer have to remind yourselves to pack your homework. All you need to do is complete it and click a button to submit it, upon which your teacher can assess your assignment and let you know if anything needs re-doing.
The unique system with its reminders makes it virtually impossible for you to forget to complete your homework. Not only that, but your parents can also keep track of it. The DL platform enables you to review all of your assignments and obligations.
This unique advantage makes for an easier and more efficient homework completion no matter the subject which in turn enables you to fully enjoy your free time.
How important is this service for parents?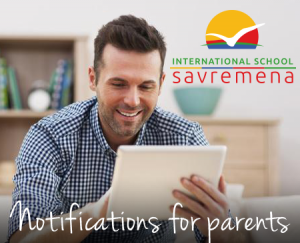 Parents receive email and text message notifications each week on the homework assignments their child has not submitted and a reminder to submit them as soon as possible.
Through this service, parents can keep track of their child's activities, as well as their sense of responsibility for completing homework assignments, and always know whether or not there is something left to do.
Such an insight lets parents know if they need to remind or motivate their child to complete their homework or if they can let them enjoy their free time.