SKILL DEVELOPMENT

In addition to the professional training that Savremena Gimnazija provides during our four-year programme aiming to prepare students for university, our students are also given an opportunity to develop various skills that would enable them to lead a successful life in the 21st century. The continuous implementation of trends within education means that we integrate knowledge and skills into a holistic approach to teaching and that we support the intellectual development of our students.
The skill-oriented courses offered at our school are not mandatory. However, they were designed to serve as add-ons to subjects within the curriculum. Their purpose is to help students unify their knowledge, achieve the best results and build a successful career. This set of courses is a valuable gift, which students can access on our e-learning platform throughout their schooling.
The e-Learning platform - a treasury of knowledge and skills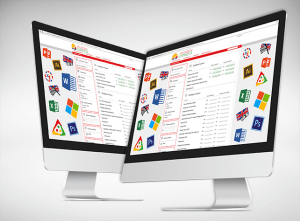 The purpose of our modern take on education is not just to raise awareness on the necessity of changing the current state of education but also to highlight the benefits of using technology in the classroom. Interactive learning is the best kind of learning! Regardless of whether the learning takes place in a classroom or online, an interactive approach to teaching is the only guarantee that students will stay focused and achieve the best results. The interactive quality of e-learning helps develop a student's versatility, which is exactly what the coming generations need. The only thing still left to do is to tailor the educational system to these trends and to enjoy the benefits they bring. We have already done all of that for our students.
Our e-learning platform enables students and their parents to access interactive study materials, communicate with teachers and take tests at any time, regardless of their location. Having that option helps students gain a better understanding of what they did in class. During the school year, students are free to take numerous courses and receive full-assistance from their teachers. Depending on their interests, students are free to take any course they want, free-of-charge.
Would you like to decide when you want to study instead of having the course schedule determine that for you? The courses you select will be available on your e-learning platform, 24 hours a day, 7 days a week.
Students will have access to almost 30 courses which are grouped into 3 categories:
IT SKILLS
Nowadays, most of us use Microsoft Office, however, not many of us can boast about knowing all of the secrets to the Office package. That is why we've included the most important Office programs in our list of free courses, thus giving our students the opportunity to master the software needed for the majority of jobs on the market. In addition to these programs, students can also learn more about photo-editing, web design and computer networks.
Windows
Word
Excel
Power Point
Photoshop CC
Adobe Illustrator
Corel Draw
Computer networks
Introduction to HTML and CSS
ENGLISH LANGUAGE
Nowadays, English skills are imperative and employees are expected to be able to communicate in English. Having a certificate issued by the most prestigious university in the world as a confirmation of one's language skills is something that will set you apart from the rest. In addition to four basic levels, elementary, pre-intermediate, intermediate and upper-intermediate, students are also offered a preparatory course for the Cambridge FCE exam. By passing this exam students are awarded one of the most prestigious English language certificates.
English Elementary
English Pre-Intermediate
English Intermediate
English Upper-Intermediate
English IT
FCE prep
BUSINESS SKILLS
This package was designed to prepare students for the real world which other schools don't do. That is why we have carefully selected the life skills we believe to be important for our students. These courses will teach students how to effectively use their time, how to develop their creativity and how to organize an event or manage a project.
Effective writing techniques
Effective negotiation techniques
Effective decision-making techniques
Effective studying
Effective business communication
Intercultural communication
Creativity and innovation
Marketing basics
Management basics
The basics of project management
The basics of public relations
Successful meeting management
The skills of clear and convincing presentation
Conflict management
Modern skills - a guarantee for a successful future
The goal of these free courses is to teach students valuable skills and to prepare them for what's to come when they enter the job market. We have carefully selected the courses which we believe to be important and useful for students. We also believe that these courses will teach students the skills needed to succeed, no matter which career they end up choosing. At a time when information is easily accessible, it is important for the leaders of tomorrow to evaluate their skills and competences, improve them and gear them towards their desired goal. This is why Savremena Gimnazija strives to provide its students with the best possible learning conditions and to prepare them for a successful future.