Savremena's Parent Involvement Coordinator
We believe that in addition to being fully devoted to its students, each school should foster a strong cooperation with parents.
Aiming to further develop our relationship with parents we have introduced a new asset to the education we provide namely the Parent Involvement Coordinator who, along with the Principal and our class teachers is another person to whom parents can turn to.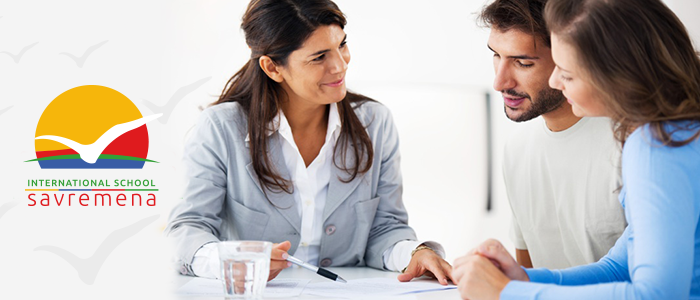 This way we want to ensure that parents are kept up to date with school events and everything else that is relevant about their child's education and that they actively cooperate with our school. This is our way of assuring parents that they have made the right decision for their child, that they are an important part of our community and that their satisfaction is key which is why we are fully committed to ensuring a successful cooperation.
The main duties of the Parent Involvement Coordinator
Answering day-to-day inquiries. We are aware that the resolution of day-to-day logistical issues can sometimes determine the way a day is perceived - as either successful or not so successful. The Parent Involvement Coordinator will answer all parent inquiries pertaining to school life and extracurricular activities and resolve any issues that may arise. This is our way of improving the level of cooperation between the school and parents in an effort to ensure the success of each student.
Giving feedback. The Parent Involvement Coordinator is there to interact with parents, take and answer all of the questions you have regarding your child's school life, attendance and academic progression. You can talk to our coordinator about anything so don't hesitate to write or call her about anything that you wish to know.
Ensuring the transparency of teaching. It is very important for parents to keep up to date with school and teaching activities. This is ensured through the e-diary i.e. the platform for parents which parents can access at any time from any location provided they have an Internet connection. And thanks to the Parent Involvement Coordinator, it is now even easier to keep track of your child's academic performance. Both the platform and our coordinator provide parents with a greater level of transparency when it comes to teaching and classroom activities.
Coordinating school services. If you wish to sign up your child for one of the services our school offers - transportation or school meals, the Parent Involvement Coordinator is there to familiarise you with the said services.She will also acquaint you with our partner companies that provide transportation and catering services to our school and explain the entire procedure to you.