The educational television eduTV, a step further in 21st-century learning

Lifelong learning and development is an essential trend of the modern age, whose significance is immeasurable.
This is why Savremena Gimnazija has provided its students with an Android mobile app enabling them to watch at all times the eduTV educational television, the first non-profit TV channel in the region whose mission is to foster the desire for lifelong learning by broadcasting educational content.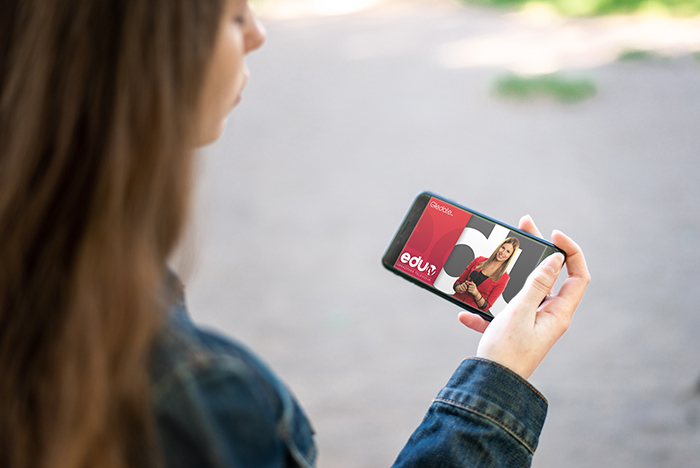 eduTV creates content aimed primarily at young people, but also at anyone who wishes to advance their knowledge and skills. This educational television educates, and motivates for learning and personal advancement, all the while being mindful of entertainment. The goal of eduTV is to reach the modern viewer who chooses when to watch the TV programme of their choice, a programme designed to both educate and relax its audience.
The topics covered by eduTV and the fashion in which they do this will introduce you to the modern age of television. This TV channel is designed for those who know how to appreciate each moment of their time.
eduTV is a project by LINK group, the founder of Savremena Gimnazija, which means that all our students can use the SG mobile app for Android to follow comprehensive and useful content designed to help them advance their knowledge and skills, thus making the learning process even more interesting.
eduTV – a channel for learning and entertainment
On eduTV you can watch educational content created in a different and entertaining fashion. The channel's interesting shows deal with contemporary topics in various fields, enabling you to learn new and useful things, and get the ideas and motivation necessary for personal development.
eduTV keeps you updated with interesting facts from the world of science, education, technology, business, culture, the arts, and many other areas.
Find your perfect eduTV show
For interesting topics in science and education, watch Super nauka (Super Science), Space Show, Edukacija (Education) and Veliki umovi (Great Minds). If you would like to venture into the world of entrepreneurship, or learn how to prepare for a job, eduTV is your counsellor through the shows eduKARIJERA (eduCAREER) and How To.
Find inspirational stories about the most promising young people in our country in Talenti (Talents). Psychological topics are discussed in Mape uma (Mind Maps) and Psihološki ugao (The Psychological Angle). Tema nedelje (Topic of the Week), a show that welcomes experts from various fields, deals with current social issues, such as dual education and private schools, which Savremena's students may find particularly interesting.
The shows Gastro bukvar (The Gastro Alphabet Book),Saveti za vas (Advice for You) and Body&Soul provide practical advice on health, diet, and how to nurture the body and the soul.
You can expect all this, and much more, on eduTV. Therefore, follow this educational TV channel – you are in for many surprises!