Interdisciplinary project-based learning for students attending the Combined Programme


Teachers at Savremena Gimnazija place special focus on projects and project-based learning (PBL) in order to keep pace with the latest trends in education designed to develop student competencies.
In order to prepare themselves for academic tasks and the labour market, students need to learn how to combine the knowledge and skills they possess and use them to achieve results, regardless of whether the result is a presentation, product, application or CV.
This is why students attending the Combined Programme, who attend lessons in Serbian and English, decided to dedicate a school year to interesting tasks that are not typical for regular lessons.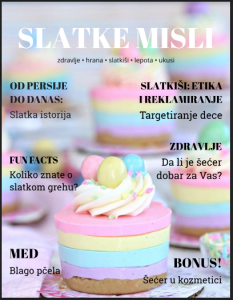 Language projects – the most demanding and most interesting ones
Some of the most interesting projects for students and teachers at Savremena Gimnazija are interdisciplinary projects, which promote both cross-subject correlation and the development of language skills.
The fact that students learn in English allows them to expand their vocabulary and, more importantly, use the language in a useful and constructive manner in a public, educational and professional context.
Innovation in problem solving
Apart from communication, an important PBL element is the development of problem solving competencies. Faced with project tasks and requests, the students employ their individual capacities and other resources in order to find solutions.
This enables students to learn how to develop critical thinking skills based on their knowledge and their intelectual, emotional and social abilities.
IT – an integral part of projects at Savremena
Most projects require the use of information technology, i.e. the development of digital competencies, so the students use not only computers and iPads, but also software and apps such as Lucidpress, ThingLink, Canva, Facebook, which allows them to gain the skills necessary for the modern society we live in.
Teamwork – an unavoidable feature of Savremena
An important aspect of the projects is developing cooperation among students.
Savremena's students become colleagues who work on projects and reach constructive and creative solutions while fostering a spirit of respect, equality and teamwork.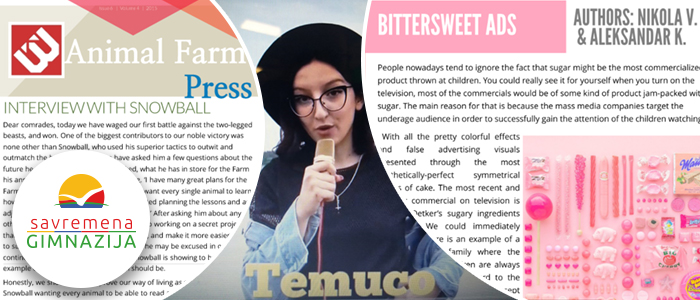 The greatest value of this approach is that students learn about sharing responsibility, respecting deadlines, overcoming differences for the sake of a greater cause, making contribution, respecting the opinions of others, and evaluating themselves and others.
Projects successfully implemented by the students
Some of the projects that have generated the greatest interest among the students and produced the best results are:
Radio Show – imaginary interview with a celebrity,
Animal Farm – a Serbian/English view of Orwell's portrayal of the Russian Revolution,
Let's get to know Nobel Prize winners and the people who should win it,
Educational Belgrade – let's plan a school trip,
Louis XVI is guilty of betrayal,
How to find a job – CV, motivational letter, test, interview,
Weather Report – a blend of Latin, Geography and English,
"Hello, sugar" magazine – a Savremenijada project task.
A plethora of new ideas waiting to be launched
As a school that follows the latest trends in education and strives to prepare its students for real-life situations, Savremena Gimnazija will continue with this approach and prepare even more interesting and challenging projects for Savremena's students.
With their creative and interesting results, the students have raised their teachers' expectations. We are sure that this school year the students will not only meet these expectations, but also surprise us with their responsibility and resourcefulness.