PRESIDENT OF THE COMPANY

Dr. Valentin Kuleto - vision of future education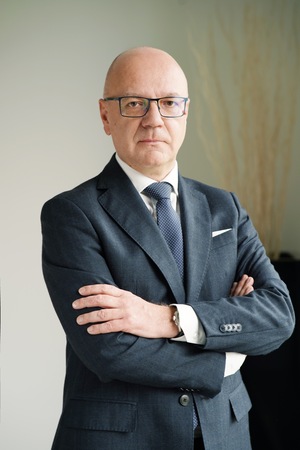 Prof. dr Valentin Kuleto is the president of the international company LINKgroup, a regional leader in the field of primary, secondary, higher and professional education, Distance Learning education and the production of educational software.
LINKgroup consists of the following educational institutions: Primary School Savremena, four secondary schools – International School, Information Technology High School (ITHS), Savremena Gimnazija and Allison Academy, higher education institutions – Information Technology School (ITS) and Faculty of Contemporary Arts, as well as LINK Professional Education (ITAcademy, BusinessAcademy and InternetAcademy). In addition to these institutions, LINKgroup also includes the Institute of Contemporary Education and the ed-tech company SoftLink, along with more than 40 educational services gathered under the unique brand of the LINKgroup Educational Alliance.
Professor Valentin Kuleto has a master's degree in the implementation of a software platform for distance learning and a PhD in research on an adaptive personalized model of a distance learning system.
Dr Kuleto's engagement in the field of education is focused on research, technology, and development with the aim of continuous improvement of the quality of education.
He is the author of 16 books, monographs, as well as scientific and professional papers (more than 70) published in journals, proceedings of national and international conferences and scientific monographs of international importance.
The revolution of education through modern business and scientific research work
During his decades-long career, Dr. Kuleto managed the development and implementation of various educational and software solutions. Dr. Kuleto has successfully led and implemented a large number of corporate projects in the field of IT and e-business, standing out as their originator, designer and leader of their realization.
Dr. Kulet's involvement in the field of education is primarily focused on promoting the importance of education, but also the professions of engineers and managers as key links in the development of the economy, industry and society as a whole. His efforts are constantly directed towards improving the overall quality of education, research, technology and development.
The focus of Dr. Kulet's scientific and research work is mainly e-business, designing and implementing educational software and distance learning.
His activity, vision and energy daily redefine, develop and improve education in a way that suits modern society and the needs of its citizens.
Sustainable growth through continuous innovation
From the very beginning of his academic and then business career, Dr. Valentin Kuleto has been dedicated to innovation and development. That is why, together with its employees, associates and business partners, it constantly works on improving existing services, but also on creating new ones that improve business and raise it to a higher level.
We respect the past, but we are constantly focused on the future.
Support for new ideas
In modern times, there is only one law: if you are not progressing, it means you are regressing . There is no status quo, nor satisfaction with what has been achieved in key areas of modern life such as education and business. That is why Dr. Kuleto provides selfless support for new products and creative ideas.
Clients, attendees, employees or anyone with a good idea or product can expect support in its implementation. Instead of bureaucratic apathy, he encourages experimentation through all business endeavors.
Let's make innovation easier. Instead of hindering them, let's enable them!
Creating social value
The main areas in which Dr. Kuleto is interested in his work, education and business, are crucial for any society. Working to improve their quality on a global level, they strive to contribute to overall social development, values ​​and progress. Through shaping experts, connecting companies with employees, various educational and humanitarian projects, Dr. Kuleto, primarily through LINKgroup, is committed to leaving behind a legacy based on which he will change the future for the better.
Changes require visions, the ability to plan and act. They don't start in offices, in meetings, or in plan folders. Changes start in our heads.
People orientation
The value of the company is people. Their energy, knowledge and commitment are the main reason for good results. That's why Dr. Kuleto is focused on helping people become successful through a developed training network, numerous support services that make clients, partners and employees achieve incredible results.
Let's bring talented people out of the shadows.
The difference between successful and unsuccessful leaders is the ability to solve problems: successful ones are aware that those who can help the most should attend meetings, not those with the highest rank. The principle of knowledge before profession is one of the secrets of Dr. Kulet's success.
For the success of future generations
The reality in which the new generations grow up is significantly different from all the previous ones. The way they learn, engage in the world, create and share their knowledge and achievements with others has changed.
Quality education is the basis of progress and success of individuals and society.
The basic idea with which Dr. Kuleto operates and creates is that each individual, who chooses to study at any LINKgroup institution, will be adequately prepared for success in the dynamic atmosphere of tomorrow.
To find out more about the interests and activities of Dr Kuleto, visit his professional blog at www.valentinkuleto.com.