Move&Groove - a fun way to start the holidays
A truly different end of term
At Savremena International School, students have a special way of celebrating the beginning of their New Year holidays. Instead of attending lessons, they participate in an exciting competition – Move&Groove.
The competitions comprises a series of interesting games that boost creativity, resourcefulness and logical thinking in various ways. The students are divided into teams and each team has its representatives competing against each other in the individual disciplines.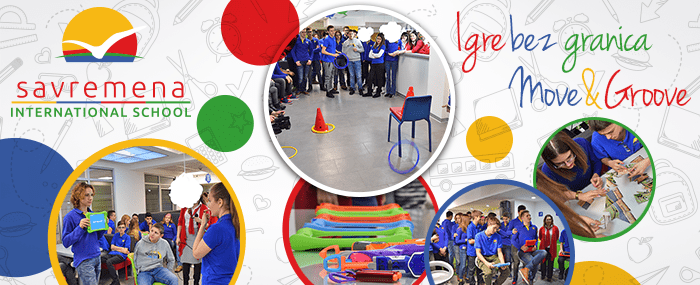 These seemingly simple games are actually based on a complex pedagogical and psychological strategy that the teachers implement in order to advance the learning process and facilitate knowledge adoption through a carefully designed didactic approach.
Every year, students experience the challenge of new and interesting games; by now, they have demonstrated their skills through the crazy quiz, charades, a memory game and the hidden puzzle, while dancing with balloons and karaoke helped spread the cheer around.
Fun games lead to new knowledge
Savremena's Move&Groove games resulted from the concerted pedagogical effort focused towards facilitating knowledge adoption and retention through games and fun activities. By taking part, students develop their existing talents and acquire new knowledge and skills.
The Move&Groove games consist of several disciplines:
THE CRAZY QUIZ is a true delight for "weird geniuses" who, through answering questions from different areas, prove their comprehensive knowledge, and complement it with new and interesting information.
CHARADES is the best game to test your resourcefulness and sharpen the keenness of your reflexes. Quick wits enjoy explaining various concepts to their teammates, striving for precision and quickness in order to outsmart their opponents.
WHO AM I is a game created specifically to develop the participants' memory. Everyone who memorises names and characters without fail loves this little game, in which the players try to quickly pinpoint the mystery person.
BRIDGE BUILDERS is a game designated for dexterous and creative people. The students try to build stable structures according to assigned concepts and as they rely on their own designs they witness as their ideas come to life.
RINGS'N'CONES tests the students' precision and perceptiveness. The game inspires sharp-eyed, steady-handed students who use their strengths to bring their team to victory in this game.
THE HIDDEN PIECE puts your deduction and logical thinking skills to the test. Using modest clues, the students try to reach a logical conclusion and discover the solution; of course, in order to win they must do so before their opponents.
DANCING WITH BALLOONS is an entertaining game that requires concentration, swiftness and agility. Keeping the balloons airborne boosts the sense of balance, while the dancing itself has positive effects on the student's motor skills and muscles.
KARAOKE is reserved for the musically inclined students, who like to express their artistic side through catchy compositions. Besides being a nifty way to bring out one's musicality, karaoke brings together the people who feel comfortable in public, who find it easy to perform in front of a large crowd.
Each year, the Move&Groove games offer a number of fun activities, whose goal is to animate both sides of the brain and show the effects of all the lessons Savremena's students learned at school.
A modern tradition
At Savremena International School, all the important days are spent in a truly different way. The beginning of the school year was marked by the Classroom without Walls, where the students went on a treasure hunt at Kalemegdan, cruised along the Danube and the Sava rivers and competed at sports games at Ada, demonstrating that they are ambitious as well as team players who value fairness above all else.
At the very end of the calendar year, Savremena's students traditionally enjoy the fun Move&Groove games. Having fun by competing in a number of creatively designed brain teasers and agility-testing activities, the students crown their achievements and leave for the New Year holiday in a truly modern way, with smiles from ear to ear.