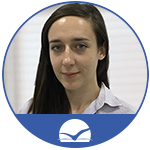 Aleksandra Rakić
Aleksandra Rakić has a master's degree in educational psychology. She completed her bachelor's and master's degree at University of Belgrade's Faculty of Philosophy. She completed the training for systemic family therapy at the Institute of Mental Health. During her studies, she acquired experience in the field of professional orientation of youth, individual support to improving academic performance, mentoring young people from the Regional Centre for Talents, and participated in educational research projects at the Faculty of Philosophy's Institute of Psychology.
She cooperated with foster families for years, mapping the needs of children and working in a team to create opportunities for fulfilling children's potential.
She believes it is important to be aware of the needs of young people, to establish cooperation and harness all their powers so as to help them realise their capacities during adolescence.
In her free time, she likes to discover new stories in books, movie theatre, or in conversations with people. She loves photography and discovering new places.