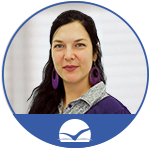 Civics and Sociology teacher
Ana Brkić
Civic education teacher Ana Brkić got her Bachelor and Master degree in sociology at the Faculty of Philosophy, the University of Belgrade, and she kept broadening her knowledge though numerous workshops and professional development events thanks to which she became a civic education teacher. She used to teach in several Belgrade Grammar schools, and for years now she has been engaged with the topic of violence prevention. Ana conducted educational workshops for youth all over Serbia, and huge volunteer experience helped her understand better the society in which she lives so she can provide support for vulnerable social groups.
In Savremena Gimnazija, she encourages independent thinking and playfulness, builds the atmosphere of cooperation and openness for diversity,motivating students to take active relations towards society.
In her free time, she plays the guitar, sings, manually produces hoola hoops and enjoys inspirational conversations.