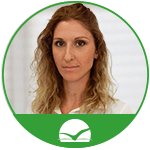 Ana Vasilić
Biology teacher Ana Vasilić received her degree in molecular biology and physiology from the Faculty of Biology at the University of Belgrade for the professional paper "Genetics of attention disorder and hyperactivity in children". Immediately upon graduation she started working in the Educational System Crnjanski, where she gained pedagogical and practical experience in working with children according to the internationally accredited Cambridge programme.She participated in numerous science festivals and eco-workshops in Belgrade. She was also successful in preparing students for biology municipality and city competitions, at which her students achieved considerable results.
In Savremena Gimnazija, using multimedia content and other pedagogical aids, she wants to find a fun way to make students familiar with this beautiful science, hoping the students will understand and love it.
In her free time, Ana likes painting, hanging out with friends, doing yoga and taking care of her pets.