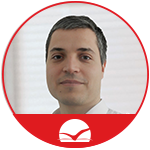 Darko Tmušić
History teacher Darko Tmušić graduated from the Faculty of Philosophy in Belgrade, at which he completed his Master studies of contemporary history. He worked as a teaching assistant at Humboldt University in Berlin, simultaneously gaining school teaching experience while working as a history teacher in a primary school.
In Savremena Gimnazija Darko tries to bring historic topics closer to modern time comprehension and make them alive, insisting on students' understanding of historical processes so they can better understand the time we live in.
Darko is passionate about sport so you can see him playing basketball in his free time, but in the role of a referee.