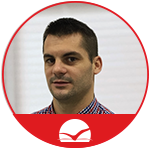 Ivan Čavić
Maths teacher Ivan Čavić obtained his bachelor's degree in maths from the Faculty of Mathematics in Belgrade, where he also enrolled into the doctoral programme. Ivan gained experience in primary and secondary schools, where he taught students using an innovative approach.
At Savremena, he wishes to help students learn and understand mathematics, connect it to other sciences and use it in real-life situations.
Ivan likes to spend his spare time with his family and friends. He plays recreational sports and loves being outdoors.