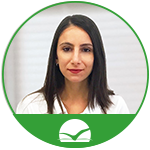 Serbian Language and Literature teacher
Ivana Mihajilo
Serbian Language and Literature teacher, Ivana Mihajilo, earned her bachelor's and master's degree from the Faculty of Philology in Belgrade, Department of Serbian Literature and Language with Comparative Literature. Her specific areas of interest are essay writing, and postmodern theories of culture, language and literature. One of her papers has been published in the journal for Serbian language and literature "Svet reči". She gained working experience in a secondary school, as well as in the PR, marketing and organisation sectors.
Ivana believes that Serbian Language and Literature lessons are important as they enable students to foster and learn about culture, as well as to develop reading habits and a love of books.
In her spare time, Ivana enjoys watching good films, plays, travelling and cycling.