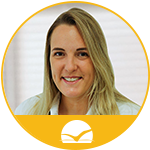 Jana Vasiljević
Jana Vasiljević was born on 7 April 1995 in Belgrade. She finished primary school as a straight-A student. She earned her undergraduate and master's degrees in information systems and technology from the Faculty of Organisational Sciences in Belgrade. At university, Jana was a member of SportFON, and in October 2015 she captained the faculty's handball team. Before she became an ICT teacher at Savremena, she worked in her family company BimBros in the Marketing department.
Her main goal at Savremena is to awaken the students' interest in ICT and teach them how to recognize the importance of computer science in all aspects of everyday life. She speaks English fluently and knows the basics of German.
Jana has played handball for 15 years, and she took part in the 2014 Women's Junior World Handball Championship.