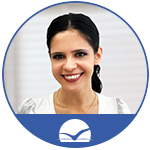 Maja Merdović
English language and literature teacher Maja Merdović graduated from the University of Belgrade Faculty of Philology, obtaining an equivalent to a Master's degree in the Bologna System. She gained professional experience teaching English in a primary school, secondary vocational school and the Philological Gymnasium. She also taught students of different ages and levels of proficiency in several private language schools.
She had worked for a long time as a coordinator of educational programmes in an international company specialising in helping domestic students to enroll in secondary schools and universities abroad, as well as leading language schools around the world. In addition, she accompanied attendees of education abroad programmes who wanted to improve their language skills in English-speaking countries while working for the same company. She pays special attention to continuous professional development by attending international education fairs and seminars accredited by the Ministry of Education, Science and Technological Development.
Her teaching work at Savremena Gimnazija is aimed at familiarising students with the English language in an innovative way, encouraging their creativity and critical thinking. In addition, she strives to help students to correctly develop all four language skills – reading, writing, speaking and listening.
Maja enjoys travelling, theatre and sports, and loves to spend her free time outdoors with her friends and family.