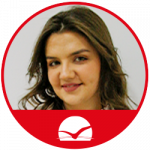 Maja Timotić
Biology teacher Maja Timotić is a graduate of the Faculty of Biology at the University of Belgrade.
Maja's wish is to show students the other side of biology as a natural science in an interesting and innovative way with the help of available modern technology. She will also strive to bring them closer to the importance and significance of ecology and sustainable development as an important segment for environmental conservation.
She likes spending her free time with friends and reading books.