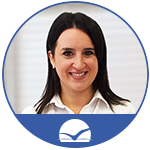 Serbian Language and Literature teacher
Marija Pilčević Tomašević
Serbian Language and Literature teacher, Marija Pilčević Tomašević, obtained a bachelor's and master's degree in Serbian from the Faculty of Philology in Belgrade. She gained work experience in several primary schools. She's particularly interested in teaching methodology, which has proven to be key in the process of conveying knowledge to students.
She believes that one can learn a lot through literature. Marija strives to instill a love of reading in the students and help them find and build their literary taste.
In her spare time, she likes to travel, spend time with family and friends, but also to isolate herself from time to time and enjoy reading.