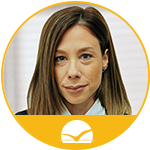 Milica Aleksić
Our Coordinator of Bilingual Education and English teacher, Milica Aleksić, graduated from University of Belgrade's Faculty of Philology, Department of English Language and Literature, with a degree equivalent to a master's degree. She gained experience working in several private schools and teaching both children and adults. She pays special attention to learning styles and developing material and courses focused on communication skills and the practical use of language. In addition to teaching, she also possesses knowledge of human resources, having worked in this field for some time. She is a certified interpreter of Facet 5 personality tests and works on assessing employee potential and progress. She is proud of her 15-year long volunteer engagement in the Red Cross as an educator who teaches first aid, communication, humane values, tolerance, project writing, etc.
Her priority as a teacher at Savremena Gimnazija is to present the importance of the English language to students for their continued education, as well as for their career, and to motivate them to learn the language by exposing themselves to it and being surrounded by it. Milica believes that the most important thing is learning how to learn, which is why she uses interactive and interdisciplinary teaching to develop critical thinking in students.
In her free time, Milica likes to design clothes and shoes, run, watch football and spend time outdoors.