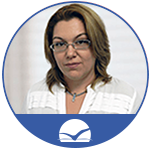 Natalija Stanković
Deputy Head, Education Coordinator and Latin teacher, Natalija Stanković holds a Master's degree in Italian language and literature. Many years of teaching experience in public and private schools, mentoring students, application of the latest teaching aids, and excellent cooperation with colleagues, students and their parents are just some of the things that qualify her for her current position.
For the past seven years, she worked as a Deputy Head Teacher, and a teacher of Latin and Italian in public and private schools. She also worked as an interpreter for the General Staff of the Serbian Armed Forces, and ABHO Center in Kruševac. She participated in numerous seminars, including The Art of Growing Up which qualifies her for a teacher of Civic Education; she completed training at the Incest Trauma Center in Belgrade in the following fields: prevention of child abuse, child molestation and domestic violence, and was the coordinator of the accredited seminar Prevention and Care of Defects in School Children and Adolescents.
She possesses C1 proficiency level in English, and the title of a professional scientific translator. She enjoys spending her time hiking with her son and family.