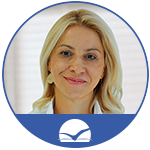 Olivera Marjanović
English and Global Perspectives teacher Olivera Marjanović earned her master's degree in English Language and Literature from the Faculty of Philology in Belgrade. She gained extensive experience as a teacher in secondary school. In addition, the English and Business English training she provided for different age groups enabled her to apply different methods in accordance with student requirements and competences. Olivera believes that one does not learn a foreign language but acquires it using diverse content and media while focusing on different learning styles.
At Savremena, she strives to implement her vast experience and create an inspiring atmosphere where students will gain English skills through an interdisciplinary and interactive approach with the use of the latest technology. Moreover, she strives to show students how important language is in all aspects of life.
Olivera devotes her spare time to her family and friends. She enjoys long walks, yoga, the theatre, concerts, and most of all, travel.