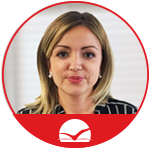 Senada Nikolić
Geography teacher Senada Nikolić graduated from the Faculty of Science, the University of Niš, the Department.of Geography. During her undergraduate studies she participated in geomorphology research projects in the territory of eastern Serbia. She gained her teaching experience working in primary schools in Niš and Belgrade. Besides, she had the experience in working with special needs children as well as with sensitive categories while teaching in the primary school "Miloje Pavlović" in Belgrade.For a number of years she has been organising business and IT conferences.
In Savremena Gimnazija, using modern technologies and a variety of educational means it offers, she wants to help students familiarize with geography. In her lessons, she will try to present the world around us using interesting, practical, multimedia content, trying to instill in her students awareness of environmental issues and principles of responsible behaviour towards the environment.
She is a great nature lover, so every spare moment she uses for travelling and excursions with her friends and family.