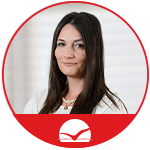 Principal
tatjana.koluvija@savremena-gimnazija.edu.rs
Tatjana Koluvija
In her many years of work in the LINK edu Alliance, Tatjana Koluvija stood out for the quality of the implementation of all work tasks, her commitment to educational work with students, mentoring work with other teachers, and professional communication with students' parents.
After completing her undergraduate and postgraduate studies at the Faculty of Philology of the University of Belgrade, at the Department of Serbian Language and Literature, Tatjana gained vast experience in working with students in primary and secondary schools, as well as in the international and national education systems.
She improved her professional skills by working at International School as a Global Perspectives and Serbian language teacher. Her talents for professional communication and mentoring were quickly recognised, which is why Tatjana soon became the Assistant Head of Academics at International School, as well as the Coordinator for Cooperation with Parents.
Thanks to her participation in numerous projects, Tatjana particularly stood out in the implementation of numerous innovations in teaching at International School, some of them being the eTwinning quality label for the "Mindfulness in Teaching" project, the introduction of the "Parents Teach" project with the aim of involving parents in school life, well-attended lectures at the Institute for Contemporary Education, but also the excellent results of her students at the Cambridge International final exams.
Thanks to her professional competencies, excellent knowledge of different educational systems, professional attitude, empathy, and dedication to working with students, Tatjana is trying to further improve the quality of work at Savremena Gimnazija.