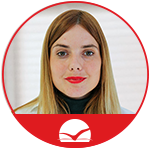 Zorana Milićević
Art and Design Zorana Milićević earned her BA in painting from the Academy of Fine Arts in Trebinje, after she enrolled into the same master's program at the Faculty of Fine Arts in Belgrade. She is attending the PhD program at the same faculty. Zorana uses natural materials to explore spatial paintings. In addition, she is interested in environmental protection. So far, she has organised six exhibitions and taken part in many collaborative exhibitions, projects, and colonies in the country and abroad. She is a member of ULUS and she won a diploma for the best student in the Painting department in 2017.
In her work, she strives to establish a relationship with students based on trust; to instil in them a love of art and cultural heritage, and inspire them to pursue art while engaging in critical and creative thinking.
She likes to spend her free time with her family, take long walks with her dog Leto, and read.