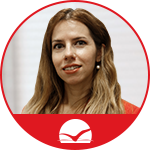 Serbian Language and Literature teacher
Zorana Putniković
A Serbian Language and Literature teacher, Zorana Putniković graduated from University of Belgrade's Faculty of Philology. She acquired experience and skills teaching in several primary and secondary schools in Belgrade and Vojvodina. She was a mentor on the project Equal Opportunities for the Education of Girls in Serbia, helping female students from marginalised categories to improve their academic performance.
As a Serbian Language and Literature teacher at Savremena Gimnazija, Zorana strives to develop a love of reading in her students, to point out the importance of speaking correctly and articulately, and especially the importance of critical thinking, analysis and evaluation. In her classes, technology and reading are not mutually exclusive; instead, technology is a modern and creative means to help one experience and immerse themselves more fully into literary works.
She spends her free time with friends, and enjoys travelling, being outdoors, good books, movies and plays.