Why choose the IB programme?

The IB Diploma programme is a world-renowned programme that allows high school students to acquire competitive, 21st-century knowledge needed to overcome challenges and perform tasks that will prepare them for studying at the world's most prestigious universities.
In addition, this unique, demanding, but meaningful programme is based on the ideal of comprehensive student development, so in addition to subjects that will directly benefit students in their future academic and professional endeavours, it also contains subjects that contribute to the development of desirable and appropriate qualities and attitudes, i.e. it enables complete intellectual social and emotional development .

There are many reasons why you should choose the IB Diploma programme, because it is, first and foremost, a unique opportunity to fully prepare for studies abroad, but we will also present other factors that make this programme so unique and popular in this decisive period of one's life – when students need to make decisions that will affect their future academic prospects.
Programme with credibility – high standards and curriculum quality
The quality of the IB Diploma programme is recognised and acknowledged by numerous renowned universities around the world, because the criteria on which the IB Diploma programme is based are rigorous, thus making it the best preparation for studying at prestigious universities.
Versatility and comprehensive development
The IB Diploma programme is designed in line with the highest educational requirements and contributes to comprehensive development of young people in the most intensive period of their development – adolescence. A holistic approach and focus on their mental, emotional, social, physical and spiritual development and growth make this program so popular, and so useful for continued education.
Internationally recognised diploma
Given the international reputation of IB programmes, it is no wonder that an IB diploma is recognised everywhere. Students who complete all the requirements of this programme and obtain an IB diploma will open the doors of the most prestigious universities in the world, especially those in the US.
Encouraging critical thinking
The programme encourages critical and creative thinking, and a philosophical attitude toward the world through critical reviews and insights, reviewing and questioning information, interactivity, inquisitiveness, and proactivity in teaching. This claim directly derives from research conducted to examine how the IB Diploma programme impacts the development of critical awareness in students attending the programme.
IB Diploma programme is becoming increasingly popular in schools around the world
Schools see the IB Diploma programme as a way to help students prepare for academic challenges and strive toward a successful future. According to official data, there are currently 2,200 schools in 140 countries that offer the IB Diploma programme, and over 115,000 students of different nationalities attending it, which illustrates its reputation around the world, and its authority in the domain of education.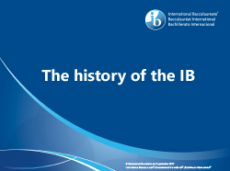 Students become citizens of the world
Development of international awareness and nurturing multiculturalism are important elements of the IB programme. Students of International School largely continue their education at various universities around the world, and the IB Diploma programme helps them develop a mindset one needs to be a true citizen of the world during high school.
Interdisciplinary subjects/courses = comprehensive education
In addition to the compulsory, core subjects, which cover various activities such as essay writing and workshops, and focus on the development of communication skills, both oral and writing, public speaking, debating, etc. students also have a group of elective subjects in the field of sciences and humanities, and they can also choose a higher level of the subjects that interest them the most, and perhaps become experts in them one day.
Development of socially desirable traits
Given that school is an environment that greatly influences the traits and habits young people will acquire, the IB organisation has designed curricula that contain activities aimed at awareness raising and development of socially desirable and positive traits. The programme encourages humanitarianism, empathy, altruism and social responsibility through compulsory activities, which include charity work and raising one's awareness of their community.
Development of responsibility and commitment to one's goals
The programme helps students practice discipline, responsibility, and a healthy attitude toward obligations, work and the desire for results. High assessment and grading standards, and demanding assignments develop work habits and prepare students for the high requirements of the best world's universities.
21st-century skills for continued education and professional career
Students acquire career-important skills that are highly valued in the academic world, and that need to be developed as early as possible in the educational process so as to ensure greater chances of success, which is proved by the results of the research conducted on this topic. Skills of communication, time management, organisation and proactivity, as well as diligence in achieving one's goals are all very important for academic and professional success.
IB students are success-oriented and aim high
Students who enrol in in the IB Diploma programme, in addition to excellent education, i.e. comprehensive curriculum that meets all the criteria and quality standards in educational and pedagogical terms, will also obtain a positive orientation and a healthy attitude toward one's own development and progress, as well as a strong motive for achievement and success. The IB Diploma programme is the perfect foundation for future challenges in one's continued education and life in general.
IB programme – for a successful future
Choose innovative, unique, modern and world-renowned secondary education, because by choosing the right high school, you are choosing a better future for yourself. Do not miss this opportunity to obtain the necessary qualifications for further academic success, and a diploma that will be your ticket to the one of the best universities in the world.